Review
A Taste of Scandal: Bad Boys, Sexy Scoundrels, and Regency Rogues (Boxed Set) / Megan Bryce, Elizabeth Cole, Madelynne Ellis, Dawn Halliday, Vicki Hopkins, Suzanna Medeiros, Kate Pearce, and Sandra Schwab
Eight in one! A promised little something for everyone in this collection of sexy historical romance. Also, I for some reason felt the need to distract myself from the more involved reading projects and the chaos that is my life with some books I can read in a few hours.
I'm breaking this down by book, since I feel reviewing the box set as a single piece would be doing a disservice. Overall, I'll vote the box set a mix, some good, some not bad but not to my taste, and some please no.
To Wed the Widow (The Reluctant Bride Collection #3) / Megan Bryce
(
Powell's Books
)
This one entertained from the first page, with wit, affection, and love of life throughout. There's actually two love stories here, one between George Sinclair and Lady Haywood, the other between the Earl and his wife.
George is back in England, leaving the home he built in India, on his brother Sebastian's request. Without any sons of his own, Sebastian needs to make sure his younger brother is prepared to take on the responsibilities or being an Earl, including producing and raising a heir of his own. Of course, George settles on the least appropriate bridal prospect, and she's not quite so sure she wants to get married again herself!
Fun read with good relationship building.
A Heartless Design (Secrets of the Zodiac #1) / Elizabeth Cole
(
Powell's Books
)
Don't read this one immediately after (or before)
To Wed the Widow
, which has an Earl named Sebastian and a younger brother named George, while this has an Earl named George and a younger brother named Sebastian. I ended up a bit confused.
Cordelia Bearing has long refused any and all proposals of marriage that come her way, and there have been quite a few, earning her the reputation of being "heartless." Sebastian Thorne earned a reputation for irresponsible behavior in his youth, but his time in the army and then as a spy turned him around and kept his reputation as a cover. Now he needs to find the mysterious and retiring "Lear" before enemies of the nation, as they seek a revolutionary ship design that would definitively turn the tide of war. He knows somehow Miss Bearing is tangled up in all of this, but he never guessed to what depths.
Not a bad light read, but historical romance spy novels really aren't my bag. Some secrets keep everyone on their toes, others just exist to cause inconvenience and misunderstanding in the plot.
Once the characters considered the threat resolved it all turned into wedding cotton candy, and the fact that the villain who threatened everyone Cordelia cares for is still at large and is brushed under the carpet bothers me.
Three Times the Scandal (Scandalous Seductions #4)
/ Madelynne Ellis
(
Powell's Books
)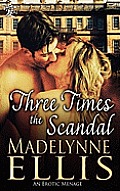 This one feels like it went for quantity of sex over quality of writing, and part of me wants it to be either book three, or "Four Times the Scandal." But I suppose the last option requires an additional intimate player. However, there is a
lot
of sex here, and with differing number of partners. The sexualization of twins doesn't really do it for me, but I know it's a pretty common thing.
We get a (I believe, based on the earlier name for this series) Georgian-era Free Love movement, a lady so desperate to avoid being forced into an appaling marriage that she is willing to deliberately ruin her reputation, some rather lusty gentlemen, and one conniving man willing to ruin a lot more than a lady's reputation if she won't become his wife. She takes shelter in the home of notorious rake Giles Dovecote, unknowingly falling into an atmosphere of casual sexuality and strong carnality shared by Giles and the
Darleston twins. If one wants to ruin their reputation, there possibly could be no better place, and Fortuna accepts it with open arms.


The Sweetest Revenge / Dawn Halliday
This one fell under "what the hell am I reading?" followed shortly by "who would ever think this was a good idea?"
Regardless of my consistent dislike of the story, it is decently written just possessing some of the most absurd decision making and... unique revenge plans I've encountered.
Three ladies have a friendship on a shared experience, the loss of their reputation and subsequent abandonment by the same man. Their plan to teach him a lesson about all of the lives he's ruined (beyond just theirs) involves kidnapping him, tying him up in the basement, and sexually assaulting him to give him an idea of what the ladies he discards go through. Meanwhile, his wild rover ways for the past seven years are an overwrought guilt reaction to the loss of the one he loved.
To which I largely kept reacting to with "wut?" My reaction can't be conveyed with correct spelling.
There was a bit of a revenge plot twist that came out of left-field at the end, which I honestly felt was rather well pulled off... if absurdly chancy and long-game. But
way
better than the primary revenge scheme which just left my head hurting.
I'm also pretty skeptical that someone can live at all part of society, even if it's on the edges, and remain unaware that to the world at large they died seven years ago. I mean, what?
If a plot where scorned women bring a rake to shame and make him repent, but that also has a happy ending, this might be the book for you.
Dark Persuasion / Vicki Hopkins
(
Powell's Books
)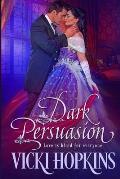 As a child, Charlotte Grey was adventurous and daring, her father's favorite and as close to a son as she could manage. Then a cruel and childish action by a boy several years her senior cost Charlotte her sight and almost her life. Now grown, the neighboring Lord & Lady Rochester see fit to sponsor her coming out into society, and she ends up as the object of affection, and competition, between Patrick and Rupert Rochester. Both young men grew up handsome, but one has a streak of cruelty and disdain for those around him, while the other is haunted by guilt of the action that cost Charlotte her sight.
I started this one hopeful, I like novels that break the model and try something less common, like handling disability (in this case, blindness). I suppose it was too much to hope for the subject to be handled well or there to be any sort of research regarding it. Regardless, blindness generally does not manifest as seeing black, and there definitely was not a school for the blind that specialized in training with seeing-eye dogs circa 1890, since the first formal seeing-eye dog wasn't around until several
decades
later. Both of those can be learned without even doing in-depth research. On the flip side, she's about on target for development of retinal detachment surgery, even if I'm pretty sure it takes the brain some time to readjust to
Rupert made it so incredibly hard for me to read this book. 10 years ago he and Patrick thought they killed Charlotte, when an ill-tempered and ill-considered shove sent the young girl flying from the tree branch onto the hard ground below. They left her sprawled and bleeding in the woods, fearful of the punishment they would face. Then as an adult he's making jokes at how she looked ready to be fucked when she was lying in a pool of her own blood as a child. It's pretty clear that Rupert's the villain of the love-triangle without that gem, but he literally makes this a repulsive read. Yes, there's a dark secret that's ultimately revealed as the source of his behavior, but it's treated more like an excuse and something that he nearly immediately gets over once he decides to.
Personal opinion of this whole book: ugh
Loving the Marquess (Landing a Lord #1) / Suzanna Medeiros
Louisa Evans and the Marquess of Overlea are both in difficult situations, ones that can be abated by a marriage of convenience. The Marquess' family was the downfall of Louisa's father, but the Marquess is in her debt and his cousin is lurking like a vulture to take advantage of her family's precarious situation. The Marquess seems to have inherited the mysterious illness that felled his father and brother, leaving him to assume the title, and must not only marry but produce a heir in short order lest it fall to his unscrupulous cousin. He thinks he's found a solution, but the last thing he expects is to fall in love with his bride.
A little over halfway through this book I made a prediction about how the last 100 pages would play out. There were no real surprises here. In the interest of avoiding spoilers, I will refrain from listing them. But as far as writing goes and plot, I've come across far more absurd and unlikely. Fast read with a happy ending, and set up for future novels.

Educating Elizabeth (Diable Delamere #1) / Kate Pearce

Oh man, this one. I read the premise and went "I fully expect this to be gloriously over the top."
When Miss Elizabeth Waterstone encounters the enigmatic Duke of Diable Delamere in the most shocking of circumstances, she is determined to exploit his rakish expertise to the fullest extent. The duke agrees to teach her everything she needs to know, but in return expects to receive her unwitting cooperation to uncover an assassination plot against the monarchy. But Elizabeth is hard to deceive, and the duke finds himself needing more than her innocent skills in his bed. Together they must use their remarkable abilities, to thwart a villain, save the Prince Regent and accidentally and inevitably fall in love.
What I can say is that this book does not disappoint. It's sexy, over the top, and unabashedly ridiculous, but never slides into the absurd (well, except for a corset becoming see-through when wet, that really is just absurd).
The Duke can be excused for thinking Miss Waterstone was a lady of ill-repute, after all, her step-father specifically gave her to him as collateral against the significant gambling debt he had accrued, nor was this the first time he had lent out his stepdaughter's services. Turns out, the services in question are a quite bit different than the ones the Duke assumed, but Elizabeth has a sharp mind and steely determination, and figures out that association with the Duke may have it's own benefits. Outside of her family's cruelty and indifference, Elizabeth Waterstone blooms, and she and the Duke become entangled in ways neither dreamed.


Bewitched / Sandra Schwab

It was only a
little
magical mishap, and it's not like the house stayed blue for very long. But Miss Amelia Bourne is exiled from her uncle's manor and sent to stay in London, stripped of her powers. The gentlemen may be fascinated by the lovely new addition to society, but her hosts delight in exaggerating Miss Bourne's provincial nature. Not that Amelia particularly enjoys high society, and the tedium that is expected of her as a young lady. Then forces conspire to entangle her affections with those of Sebastian "Fox" Stapleton, but to what ends? And without her magic, can Amelia defeat the evil that threatens?
The read is fluffy and inconsequential, but enjoyable none the less. The characters are amusingly mismatched, situations often cheekily comical, and the snippets of penny novels we are treated to are hysterical. Sebastian's manservant speaks like Terry Pratchett's Igors, and some of the moments of dialog are just priceless.
I really like how the author handled the potion forced infatuation between Amelia and Sebastian. The potion works true, but like any forced attraction cracks do show, especially as actions and events bring out behaviors and reactions contrary to the spell's influence.
Advanced Reader Copy copy courtesy of CrushStar Multimedia LLC via NetGalley; differences may exist between uncorrected galley text and the final edition.